Come and have a look, this is a super full-featured inverter, 5000+ users choose it because it is very suitable.
The BWT-DT1000 series of dedicated sine wave inverters are designed for the actual needs of power systems and post and telecommunications businesses, taking into account the size of space installation and the IT era's need for automation and networking of inverter management, as well as noise for office or computer room work The inverter is specially designed and produced under the influence of personnel.
This series of inverters adopts advanced SPWM and CPU control technology, with precise control, isolation of input and output, soft start of output, safety and efficiency, good reliability, and strong impact tolerance to inductive loads. This series of products are not only small in size, light in weight, beautiful in appearance, easy to install and maintain, simple to operate, low noise, low back-injection noise, and no pollution, but also have real-time data collection and multi-channel remote communication functions to implement network management for the majority of system users And remote monitoring provides convenience. This inverter is not only suitable for the communication industry, but also for other occasions that require high power supply quality. It is an ideal power source choice for office automation.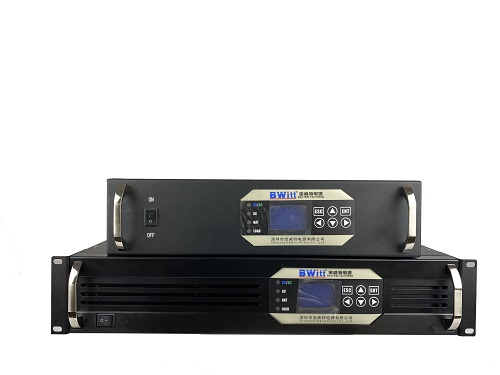 So what are the functions and characteristics of this high-frequency pure sine inverter?
▲This series is an intelligent dedicated inverter power supply, using intelligent microcomputer CPU control technology, advanced control theory and mature and stable high-frequency inverter mode, can quickly respond to changes in the external environment, and provide uninterrupted high-quality real-time AC output.
▲ Using advanced PWM+SPWM pulse width modulation technology, the output is soft-start, the output is a pure sine wave with stable frequency and voltage regulation, noise filtering, and low distortion.
▲Advanced DC-AC electrical isolation technology, which is different from other pseudo isolation modes, truly realizes complete electrical isolation between DC and AC in all circuits, meets the isolation requirements of all application systems, and eliminates all possible interactive interference.
▲With power-on self-test function, strong load capacity and good load compatibility; built-in bypass switch improves the continuity and reliability of inverter power supply.
▲It has the function of direct power on of the mains, allowing the user to bypass the mains output to supply power to the load when there is no DC input; it is allowed to cut off the DC when the power is on, and automatically switch to the mains bypass, which does not affect the power supply of the load and is convenient for the battery Perform maintenance and replacement.
▲With intelligent unattended function, when the DC voltage is too high or too low, the mains power is off, etc., the DC voltage or mains power returns to normal, and the power automatically restores the output, especially suitable for unattended communication Base station.
▲It has complete safety protection functions, with DC input anti-reverse connection and DC input buffer protection, with comprehensive protection measures such as overvoltage, overload, short circuit, over temperature, temperature control fan, and inverter failure.
▲Adopting advanced anti-injection noise suppression technology, which does not interfere with other communication equipment sharing the DC screen. The AC input terminal adopts multiple filtering to eliminate the interference of the mains power grid and meet the needs of the application system for the main AC power supply.
▲With flexible setting of AC main supply type and DC main supply type (can be changed through LCD panel or communication background software):
▲AC main-supply inverter power supply is in the mains output mode when there is mains power, and automatically switches to the inverter output when the mains input fails.
▲DC main-supply inverter power supply normally works in inverter output mode, and automatically switches to mains bypass output when DC input fails.
▲With rich LED+LCD status display, alarm signal display and alarm record function, it provides a complete and friendly man-machine interface, using 128*64 dot matrix, blue background, white subtitles.
▲Provide 5 groups of passive dry nodes for DC input failure, AC input failure, overload information, bypass information, and output failure.
▲Provide completely independent standard RS232 and RS485 communication interfaces, support real-time data communication function, and use monitoring software to monitor and manage the inverter power supply in real time.
▲Support built-in TCP/IP communication to realize remote network monitoring and management of inverter power supply (optional) Support built-in SNMP communication to realize the Internet access function of inverter power supply and achieve the purpose of network monitoring and management (optional).