This is a multi-function inverter/charger, combining functions of inverter, battery charger to offer UN-interruptible
power support with a portable size. Its comprehensive LCD display offers user-configurable and easy-accessible
button operations such as battery charging current, AC priority, and acceptable input voltage based on different
applications.
It uses a novel design structure that helps users to provide Pure, stable and durable AC power for critical loads,
and has the same high reliability as the AC power supply system. The design characteristics of the dedicated
communication pure sine wave inverter ensure the seamless conversion between the AC and DC power supply,
almost no conversion delay, and build in the static switch.
Basic System Architecture


The following illustration shows the basic application for this inverter. It also includes the following devices to
have a complete running system: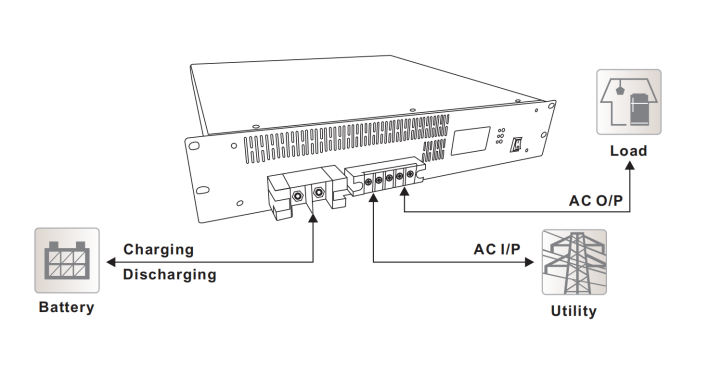 Product Overview

1. Operation panel
2. RS-232 communication port
3. AC input terminal
4. AC output terminal
5. Battery input
6. Circuit breaker
7. Parallel communication ports
8. Share current ports
9. Dry contact
10. RS-485 Modbus communication port
11. USB communication port


Application
P

D家用逆变器连接图示
| | | |
| --- | --- | --- |
| 1. Telecom station/base/ Cable Equipment | 7.City WIFI device | 13. Fire Alarm Systems |
| 2. Communication Station | 8. Emergency communication car | 14. power utility System Control /field |
| 3. Computer data center | 9. Railway & metro | 15. power plant/station |
| 4. SCADA Networks and Data Equipment | 10. Distributed Antenna Systems | 16.Power monitoring system |
| 5. Radio Base stations/ Cell Sites | 11. Marine & offshore | 17.Solar power system |
| 6. Monitoring center room | 12. Building Management Systems | 18.Wind energy system |